I had an old Intel Macbook from 2006 stashed away in my closet. Apple had more or less dropped all support for it a long time ago, so now it was pretty much useless. I couldn't even run the latest version of Chrome on it anymore.
A couple of months ago I stumbled upon a video on Youtube with a step by step guide on how to install Windows 10 on these old laptops. I decided to refurbish my old Macbook. It looked pretty easy but I didn't have the original disks for Snow Leopard and had to buy new ones from Apple. I also got a new 500 GB hard drive as the original was only 60 GB, too small to hold both Windows and OS X. The whole process was fairly straight forward and took about an afternoon and an evening, including installing all the updates for Windows.
Basically it went like this:
Download the 32 bit version of Windows 7 or 8 and put the installation files on a USB stick or DVD-R.
Run the Bootcamp app from the the Snow Leopard system disk
Insert the USB or DVD-R with Windows and run through the installation.
After completion boot in Windows mode and update to Windows 10.
Finish off by running the Bootcamp app in Windows. This will install all the necessary drivers.
Now I had a fully working Windows 10 laptop for surfing the web and playing non-graphics intense games like Braid and FEZ.
Of course I couldn't stop there. I decided to do something about that ugly top case. Since the laptop was first generation white Macbook, aka the smelly version the sides of the plastic had eroded into in thin long stripes. On top of that, the plastic smelled like old sweat, a heavy BO that got more intense the warmer the computer got. Apple quality my ass.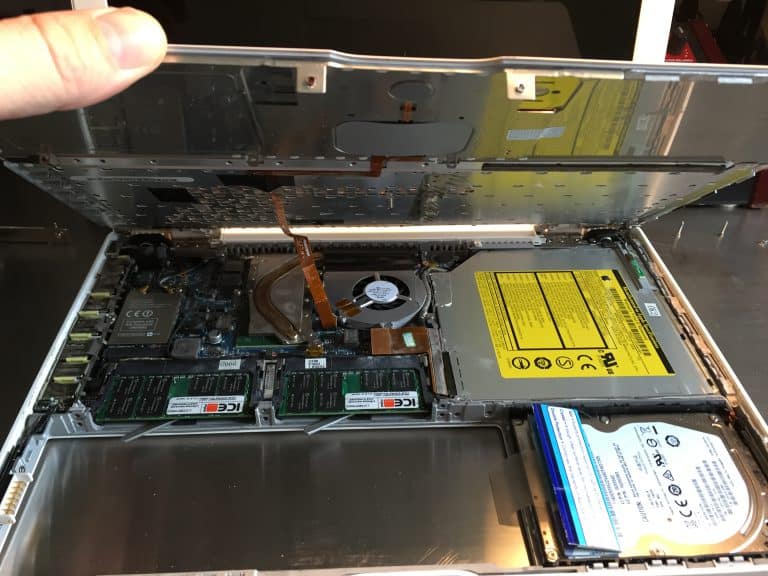 Removing all the screws and opening it up.
I surfed the web and found a $30 Hong Kong replacement on AliExpress.com. The description said it was original and 97% new, which I now understand means refurbished. I suspect they took the underside from an old laptop and added newly produced plastic top, keys and pad.
The quality of the top case was surprisingly good, although there is a barely noticeable bump in the plastic to the left of the pad. As if something like a spanner was dropped on it. Never mind.. I'm happy it doesn't smell at all like the original, it's in one piece and everything is working. And I now have a Windows 10 computer that looks like a Macbook.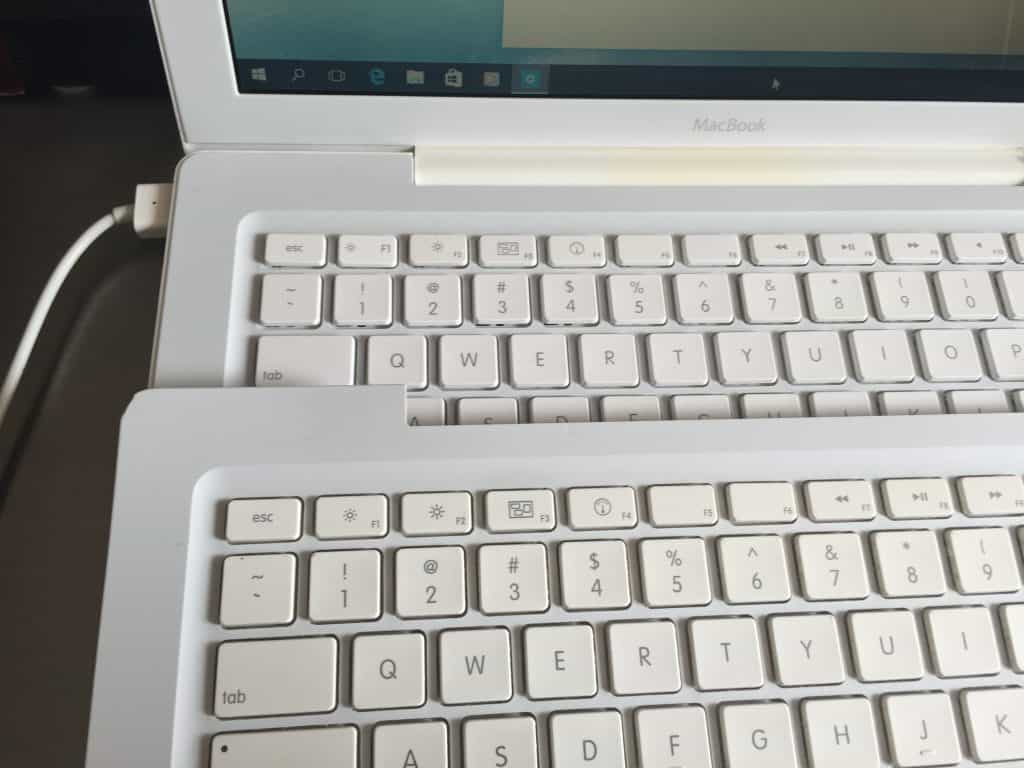 New vs old. Notice how the keys are a bit more yellow on the old top case.