My hands-on approach for making music
Ever since I started making music in the mid-80s, hardware synthesizers, effects, and such things have been an essential and vital part of it. In the beginning, it was completely out of necessity. As I moved on from making music on my Commodore 64 and Amiga computers, software synths weren't a thing yet. If you wanted to get serious, you had to buy the real stuff.
Me being in my early 20s and without a job meant I couldn't afford the things that my synth heroes back then would use. My first piece of hardware was a simple FM synthesizer from Yamaha called FB-01. I made some songs on it but soon decided that I wanted something more, preferably something that had drum sounds as well. That turned out the be the Roland D-110. This 80s-sounding module became the central instrument on my first album 64, which I released myself on CD in 1996.
My studio has grown in size since then and a lot of gear has come and gone over the years. The D-110 was soon upgraded to a Kurzweil K2000. It had a powerful, modern sound engine. This opened up a whole new world of possibilities. My music started to sound like something that wasn't made in a bedroom on outdated equipment. My second album Karooshi Porn, released in 1999 was mainly created on the Kurzweil, with some help from a Roland System-100, SH-09, and a TR-606 drum machine.
Today I have a pretty large palette of tools to choose from. The studio is in constant flux. One of the most recent things added is a small Eurorack modular system. It was extensively used on my 2017 full-length album Focus. I really like the limitations of a smaller Eurorack system. For me, sometimes limitation can equal creativity. The hours disappear fast when you work on it and it has been a source of many 'happy accidents. Really inspiring stuff.
Below you find a more or less complete list of all the tools I use to make music these days.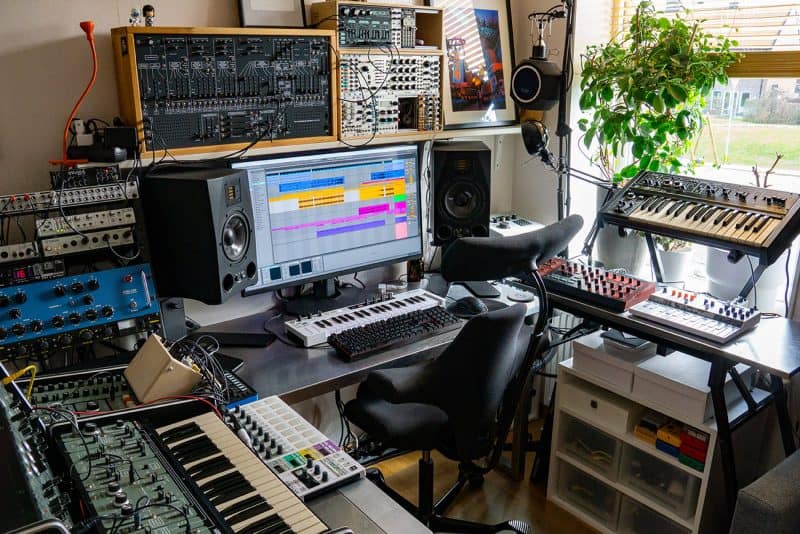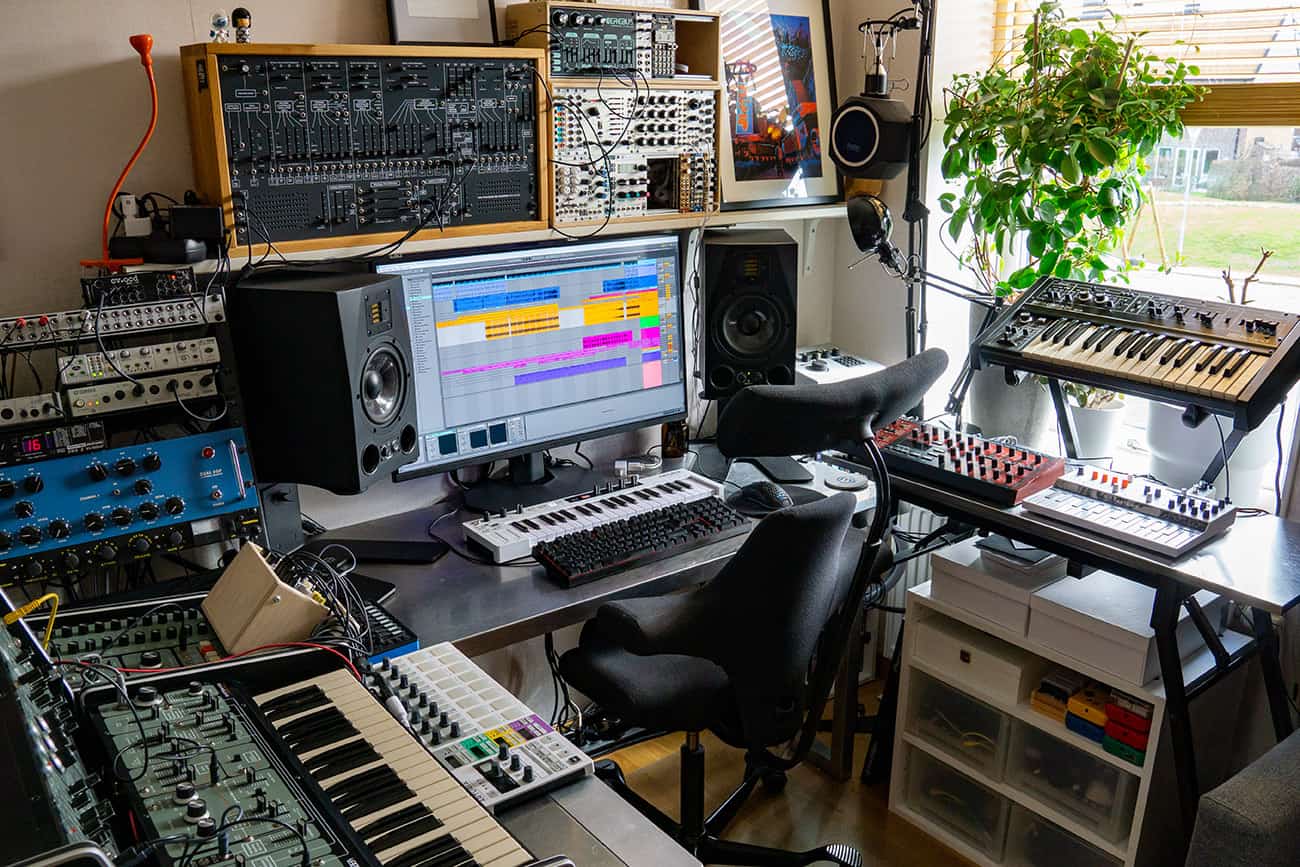 Hardware Synths & Drum Machines
Access Virus b
Arturia Microfreak
Dreadbox Lil Erebus
Elektron Sidstation
Roland J-6
Roland SH-09
Roland System 100 Model 101, 102, 104
TTSH v3 (Arp 2600 Clone)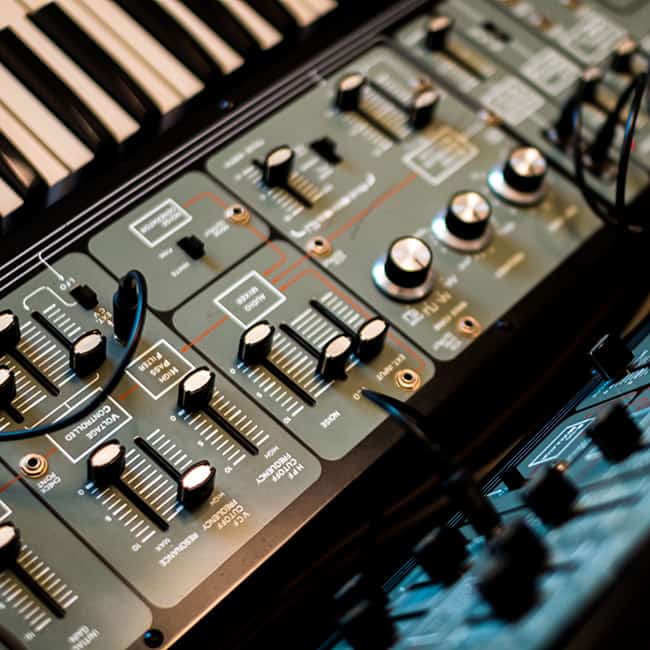 Eurorack
2hp Arp
4MS Rotating Clock Divider
Bastl Cinnamon
Bastl Propust
Bastl Skis
Doepfer A138 Mixer
Doepfer A160 Clock Divider
Doepfer A151 Sequential Switch
Doepfer 2 x 180-2 Multiple
Erica Synths Pico Drums
Erica Synths Pico Mod
Hexinverter Make Noise Function
Manhattan Analog 2 x CP3
Music Thing Modular Chord Organ
Music Thing Modular Spring
Music Thing Modular Turing Machine
Mutable Instruments Braids
Pittsburgh Synthesizer Box
Rebel Technology Στοιχεῖα
Sonic Potions Penrose Quantiser
Teenage Engineering PO-33 KO (LPZW Mod)
Thonk AT-AT-AT
Weston AD110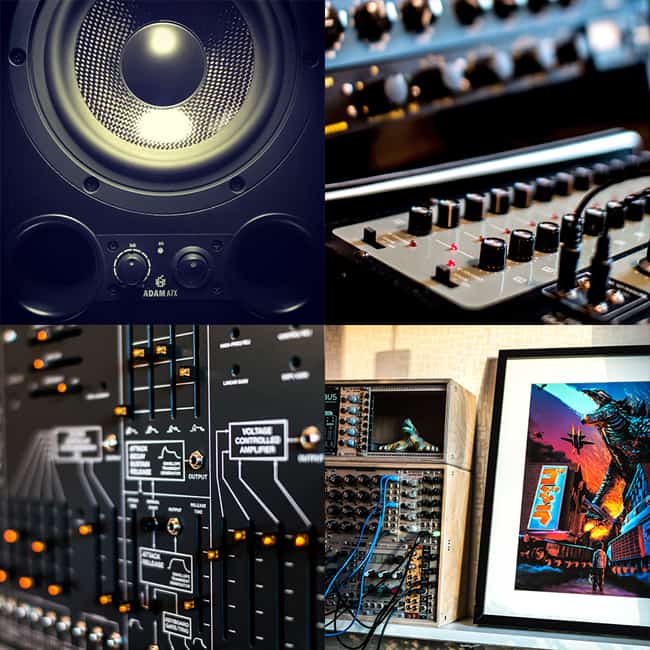 Software
Ableton Live 10
Sound Forge 12.6
Plugins
ADPTR AUDIO Streamliner
Arturia Rev Plate-140
Baby Audio Crystalline
Baby Audio Spaced Out
Boz Digital Labs Bark of Dog 2
Eventide Crystals
Eventide TriceraChorus
Fabfilter Pro Q-3
Izotope Ozone 10
Izotope Ozone Imager 2
Izotope Vocal Doubler
Lindell Audio SBC
Lindell Audio MBC
Output Movement
NoiseAsh Audio Vocal Finalizer
Slate Digital Fresh Air
Soundspot Halcyon
Soundtoys Little AlterBoy
Surreal Machines Crack
Surreal Machines Diffuse
Surreal Machines Modnetic
Valhalla Delay
Valhalla Shimmer
Valhalla VintageVerb
Waves Magma BB Tubes
Waves Magma Tube Channel Strip
Softsynth plugins
Native Instruments Analog Dreams
Native Instruments Hyphna
Newfangled Audio Pendulate
Output Arcade
Output Exhale
Dynamics and EQ Hardware
Dual EQP (2 channel Pultec EQ Clone)
Prime 4000E Mixbus Compressor (SSL 4000e Clone)
Other Hardware
Adam A7X studio monitors
Arturia Beatstep Pro
Arturia Keystep 37
Behringer MiniMON
Behringer Ultrapatch Pro
BeyerDynamic DT 770 Pro Headphones
BeyerDynamic Custom One Pro
Cv.ocd Midi to CV Converter
Dell G322Q 32″ 4K UHD Monitor
Gear4Music Heavy Duty Studio Arm Mic Stand
K&M 26775 Table Monitor Stands
Kenton Pro 2 Dual Channel MIDI to CV Converter
Nuraphone 2
PC, AMD Ryzen 7 3700X 4.20 Ghz, 16 GB, GeForce GTX 1660 Ti, Windows 10 Pro
Pioneer DDJ-400 Performance DJ Controller
Røde NT 2 Microphone
SubPac S1
SubZero XLR to USB Signal Converter / Preamp
SubZero Portable Vocal Booth Isolation Ball
Traktor Audio 10 External Sound Card
Yamaha UX 256 Midi Interface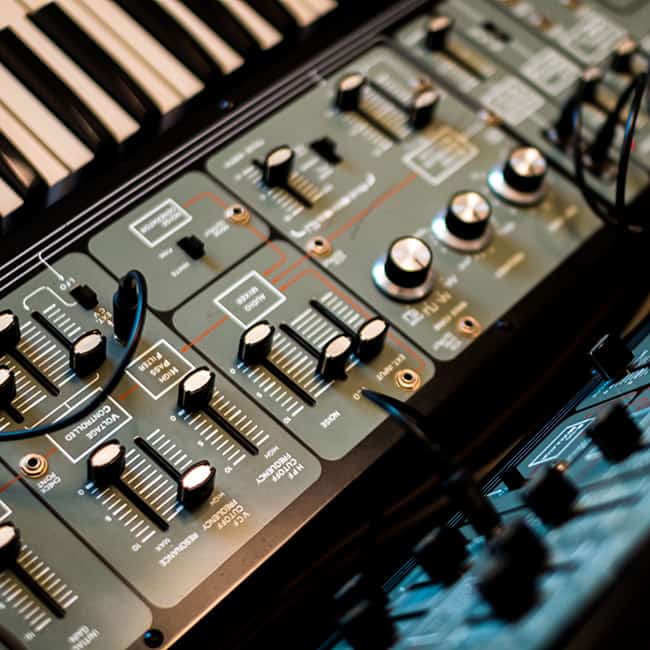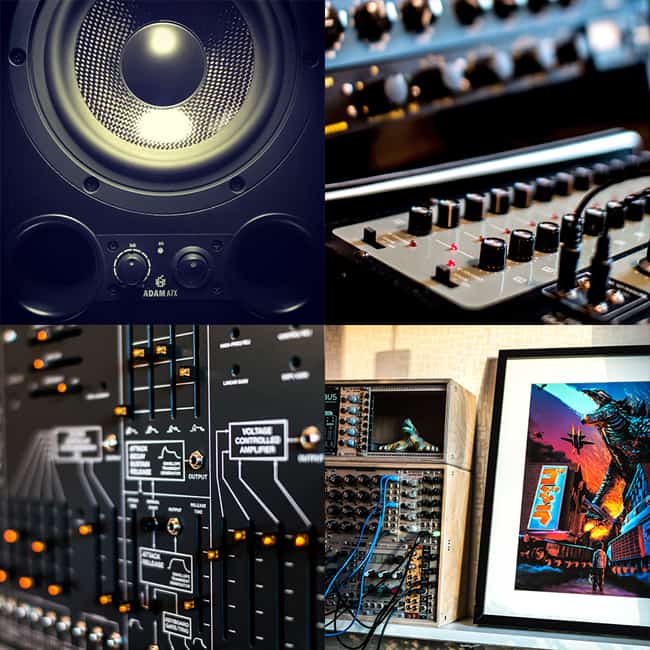 Hardware Synths & Drum Machines
Access Virus b
Arturia Microfreak
Dreadbox Lil Erebus
Elektron Sidstation
Roland J-6
Roland SH-09
Roland System 100 Model 101, 102, 104
TTSH v3 (Arp 2600 Clone)
Eurorack
2hp Arp
4MS Rotating Clock Divider
Bastl Cinnamon
Bastl Propust
Bastl Skis
Doepfer A138 Mixer
Doepfer A160 Clock Divider
Doepfer A151 Sequential Switch
Doepfer 2 x 180-2 Multiple
Erica Synths Pico Drums
Erica Synths Pico Mod
Hexinverter Make Noise Function
Manhattan Analog 2 x CP3
Music Thing Modular Chord Organ
Music Thing Modular Spring
Music Thing Modular Turing Machine
Mutable Instruments Braids
Pittsburgh Synthesizer Box
Rebel Technology Στοιχεῖα
Sonic Potions Penrose Quantiser
Teenage Engineering PO-33 KO (LPZW Mod)
Thonk AT-AT-AT
Weston AD110
Software
Ableton Live 10
Sound Forge 12.6
Plugins
ADPTR AUDIO Streamliner
Arturia Rev Plate-140
Baby Audio Crystalline
Baby Audio Spaced Out
Boz Digital Labs Bark of Dog 2
Eventide Crystals
Eventide TriceraChorus
Fabfilter Pro Q-3
Izotope Ozone 10
Izotope Ozone Imager 2
Izotope Vocal Doubler
Lindell Audio SBC
Lindell Audio MBC
Output Movement
NoiseAsh Audio Vocal Finalizer
Slate Digital Fresh Air
Soundspot Halcyon
Soundtoys Little AlterBoy
Surreal Machines Crack
Surreal Machines Diffuse
Surreal Machines Modnetic
Valhalla Delay
Valhalla Shimmer
Valhalla VintageVerb
Waves Magma BB Tubes
Waves Magma Tube Channel Strip
Softsynth plugins
Native Instruments Analog Dreams
Native Instruments Hyphna
Newfangled Audio Pendulate
Output Arcade
Output Exhale
Dynamics and EQ Hardware
Dual EQP (2 channel Pultec EQ Clone)
Prime 4000E Mixbus Compressor (SSL 4000e Clone)
Other Hardware
Adam A7X studio monitors
Arturia Beatstep Pro
Arturia Keystep 37
Behringer MiniMON
Behringer Ultrapatch Pro
BeyerDynamic DT 770 Pro Headphones
BeyerDynamic Custom One Pro
Cv.ocd Midi to CV Converter
Dell G322Q 32″ 4K UHD Monitor
Gear4Music Heavy Duty Studio Arm Mic Stand
K&M 26775 Table Monitor Stands
Kenton Pro 2 Dual Channel MIDI to CV Converter
Nuraphone 2
PC, AMD Ryzen 7 3700X 4.20 Ghz, 16 GB, GeForce GTX 1660 Ti, Windows 10 Pro
Pioneer DDJ-400 Performance DJ Controller
Røde NT 2 Microphone
SubPac S1
SubZero XLR to USB Signal Converter / Preamp
SubZero Portable Vocal Booth Isolation Ball
Traktor Audio 10 External Sound Card
Yamaha UX 256 Midi Interface