This is a blog about music and technology and me
I have always been a creator. At first it was painting and drawing, making my own cartoons and such, then as a teenager I discovered the world of computers. After that there was no going back really. My artistic endeavors merged with a deep rooted interest for technology.  They have remained interlocked ever since, in everything I do.
Over the years I have dabbed in a lot of different creative techy stuff like designing and developing computers games for the Amiga and mobile games like Dots & Stars for iPhone and Kids Beads for iPhone.
Still, at the core one of my main interests has always been music and the creation of it.
If you count my years on the Commodore 64 I guess it all started when I got hold of the program called SoundMonitor, made by Chris Huelsbeck. The first tunes that I made around Christmas 1986 were simple and quite frankly pretty bad. Still, with a lot of practice and over time I learned how to do music that sucked less and once in a while I actually did something that other people could enjoy. And that's all there is to it really. Keep doing what you like and you will get better at it with time.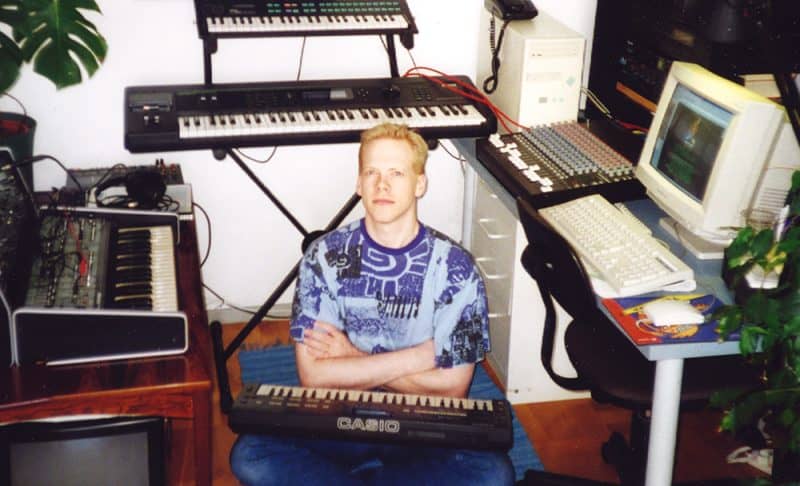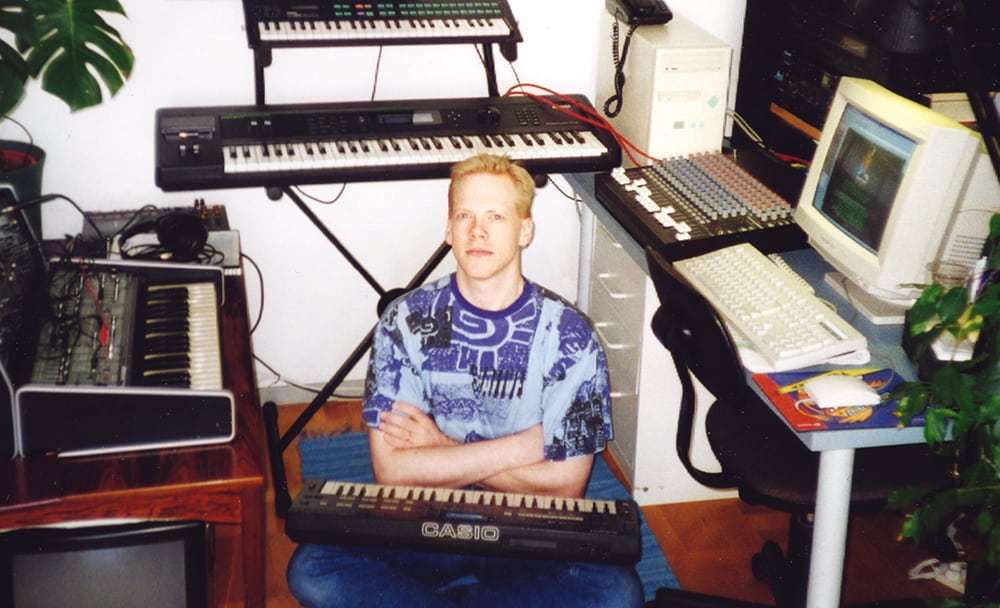 Releasing music commercially
Since the mid 90's I have produced and released three full-length albums and a bunch of digital EPs with my own music. I also used to remix other artists. Some of the more famous ones are Jean-Michel Jarre, Klaus Schulze and Matt Darey.
The style of my music has of course evolved over the years. The first album 64 (XAKK 1996) had a kind of 80s vibe and was heavily inspired by my years in the so called Commodore 64 scene. The second album Karooshi Porn (1999 Ninetysix Sounds) had a more commercial, laid back sound that fit well into the late 90s ambient/electronica/techno vibe. My third album Focus was released in 2017 and it's a mixture of modern alternative dance music, techno, progressive house and some ambient.
First remix
My first real dip into electronic dance music was in 2005 when I was asked to remix Deep Orbit aka Genix. His track Revolver had been signed to the Dutch label KYR Records which I had contacted earlier, pitching my music.
Also in 2005 I resurrected XAKK as a digital label to release my own stuff and music from some of my talented friends. My track Mind your matter (2006 XAKK) was played by some of the biggest DJs in the industry, like Armin Van Buuren and Markus Schulz.
Another of my dance tracks back then called The black hole in my heart (2006 XAKK) was supported by DJs like Matt Darey.
Today
Yada yada yada fast forward to around 2014-2015. At this point in my life I kind of paused and looked back on all the stuff I've done music-wise. Most of it on smaller labels. I decided, enough of this. From now on I was only going to concentrate on my own music and start working on that third album I had told myself for the last 15 years I was going to do. At the time I had also started to take a dive into the world of the modular synthesizers. I found that whole concept to be very inspiring and actually many of the tunes on the album Focus (2017 XAKK) originates from my Eurorack system.
Design, writing and other stuff
Yes, music is a big part of my life but of course I'm doing other things as well. I have a full-time job as a User Experience Designer and I also used to work as a freelance writer for printed magazines. I was writing about music production (obviously), Photoshop, photography and various tech related things.
Design is something I have been working with professionally since 1996. My specialty is UX Design and Art direction for E-commerce but over the years I have also worked in other areas. I have a design portfolio which is available on request. More info about my professional job life can be found on my Linkedin page.
Follow me on Spotify
Now you have read almost all there is to know about me – the official version anyway, I'll save the unofficial stuff for my memoirs. Before you move on I have just one little favor to ask from you. If you are a Spotify user, could you please kindly click on the Spotify Follow button. That way you will never miss any future release from me. Also it's a nice way to keep track of the great music I add once in a while in the form of Spotify playlists.