Release date set for Inside Out (Well, almost)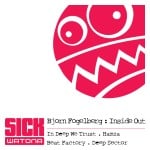 Promos are out for my next release on Sick Watona. Release date has been set to "September".
Bjorn Fogelberg – Inside Out (SKW038)
"Sick Watona are at it again. Bjorn Fogelberg brings summer to everyone with this bag of tricks. A montage of thoughtful grooves!
Deep Sectors Mix reminds the senses of days gone by where the space created by a great rhythm section and some sublime sub aqua chords could fill any dancefloor boogie.
In Deep We Trust welcomes you to swing and shuffle tempted with vocal highlights and a dash of Detroit synth behaviour. Ooh Yea!
Beat Factory opens its doors with an afro shuffle and after tipping it's hat in respect to an old friend called H.O.U.S.E, he returns to Grooveside.
Hamza's bassline washes over your face like a sonic waterfall with key changes playing tricks with ones senses. Hold on and enjoy the ride.
Bjorn's original take is a very confident piece of electro house. Strong army like synth stabs massage your belly leading to final victory by knockout!"
Comments
comments